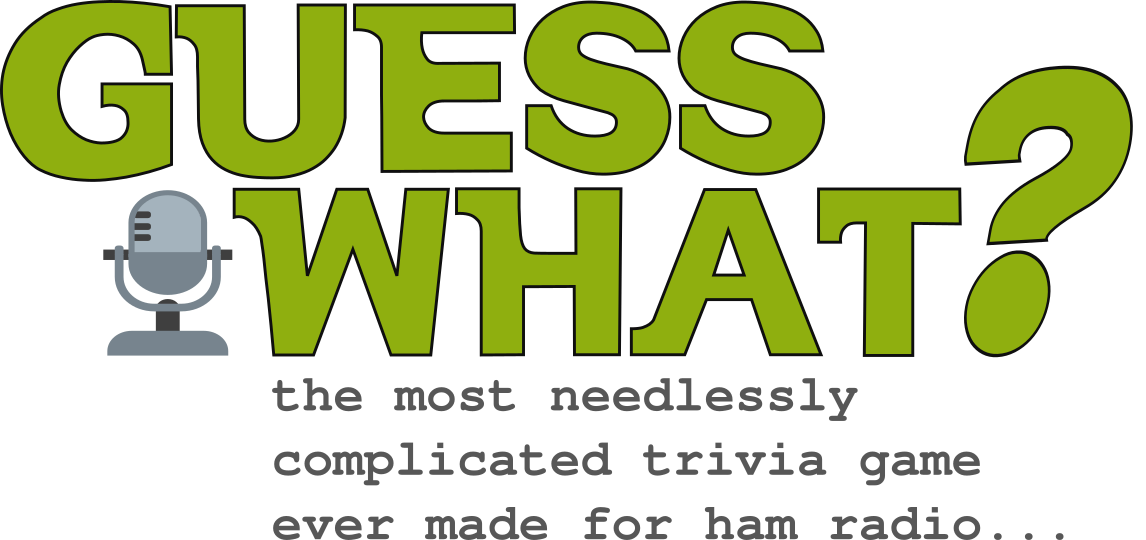 Looking for some late night laughs? Want to stretch the old noodle? Join us on the 220 MHz Guys & Gals Nightcrawlers net on Thursdays for Guess What?— the most needlessly complicated trivia game ever made for ham radio. (Of course, come on out every night for the net, but on Thursday's you'll get Guess What?)
Looking for next week's quiz themes, the "Game Changer" question, and maybe a few answer hints? Well, check below and check back often. We'll be posting more on this site before you know it. The game is ever changing, a barrel of laughs, and always needlessly complicated. Looking forward to hearing you check in.
---
The Winners' Circle
| | |
| --- | --- |
| 01.21.21 | John KD9BYW |
| 01.15.21 | Kevin WW0SE |
| 01.08.21 | John KD9BYW |
| 01.01.21 | John KD9BYW |
| 12.25.20 | Laura KD9EID |
| 12.17.20 | Bob KC9UJY |
Each week we celebrate the winner of Guess What? who is awarded a very nice frameable certificate as proof to friends and family that, yes, indeed, they are this week's Guess What Winner (the "GWW"). The GWW also has the privilege of choosing the next week's game play category.
How to Play the Game
You want to know how to play? Well, you're guess is as good as mine! The rules are ever changing and always complicated, and that's part of the fun, of course. Actually, you don't really need to know anything to play; just tune into the Night Crawlers Net each Thursday around midnight and we'll explain the rest. But if you're as nerdy as I am, you can check out our current "loose" gameplay rules right here.
The game involves about 20 questions, or so, doled out out one at a time over the course of three game play rounds—The Take a Guess Round, the Double-Take Round, and the Game Changer Round. Each is described below.
Round 1: Take a Guess
Up Next: Gastronomical Global Favorites
In the "Take a Guess" round each player is given a question. When you get yours, think it over and consider your options: 1: You can answer unassisted for five points. 2: You can request some answer choices for a possible three points. 3: You can use a lifeline, which would bring the question value down to one point should you get it right, but if you get it wrong, you lose a point and everyone else gets one. Life lines include 50/50, Pick 2, or a Swap-a-Roo (a new question drawn from the Guess What? realm of randomness).
Round 2: Double-Take
Up Next: Film Food

Now things get a little more interesting. In the "Double-Take" round you can take double the points for each question, but you've got to earn it. The twists come quick and the turns are sharp. When you get your question, consider these options: 1: You can answer your question unassisted for ten points. Note there are no multiple choice questions in the Double-Take round. 2: Instead of answering the question, you can choose to spin the Wheel of Chance, where who knows what you might get—good fortune, bad fortune, or maybe a Guess What? challenge you won't soon forget. While there are no multiple choice questions in the "Double-Take" round, sometimes you will find clues to the answers on this very page. Look for the word cloud graphic, give it a click to enlarge it, and see some words there that might put you on the right track for the answers. Consider it a "word bank." The answers are in there, you just have to find them and match them with the right question. Also, you know never what kind of gameplay/scoring variations the game master might thrown in on a given night (bonus point opportunities, etc.).
Round 3: The Game Changer
The final round in of Guess What? is something we like to call the "Game Changer." The game changer is a riddle or lateral thinking puzzle. We read it at the top of the game, you can always find published to this page each Monday in preparation for Thursday's game, and we read it again at during the Game Changer round when it's time to answer. This is a high point-value question worth 20 points. It can turn the tables; it can change the game. To make this fair, we will leave it up to the Wheel of Chance to see who gets first shot at the Game Changer. If this randomly selected person does not get the correct answer, we will simply work our way down the check-in from that person and that back to the top as needed. The first person to get it correct, earns the points.
Game Changer Riddle: The Coconut Millionaire
A man buys coconuts at $5 a dozen and sells them at $3 a dozen. As a result of this he becomes a millionaire. How come?
See Some Hints if You Must
He lost money on every coconut he sold.
He did not make money by any related activity.